C-ZAP
Company Safety performance totally depends on how leaders are engaged in safety-related activities. The sooner the leaders throughout the organization realize that working safely is no less important than meeting production goals to create a safer and better workplace, the incident trend in the organization starts falling. CLIDE Zero Accident Process helps companies to tap the untapped potential by engaging everyone to shape the culture.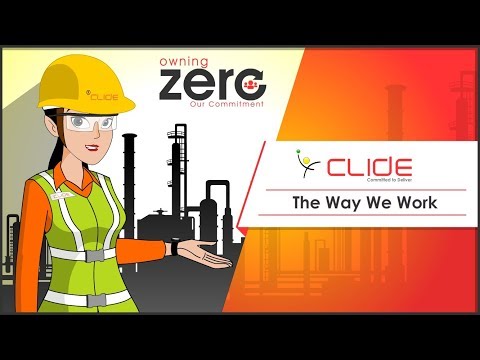 C-ZAP Model
C-ZAP can be implemented at any stage on the safety maturity model and help you achieve SMART goals. With the help of formulating "Internal Safety Improvement Team" which acts as a prime mover to shape the culture by developing leaders, through coaching & training, and monitoring the leading indicators.


Improve Engagement Ratio
Employee engagement ratio indicated the involvement of the workforce in safety activities.

Improve Visible Leadership
Leadership at all levels is important for an enterprise to achieve a zero harm vision.

Improve Safety Competency
Trained workforce contributes more towards the productivity and safety of the organization
Developing Resilient Strategy
Learnings from the past incident can help you develop a resilient strategy. Data collected over time can provide the organization with a lot of insights on the strategy development to achieve the "Zero Harm" vision.

Read our research paper to learn more.
What result you can expect?

---
Our C-ZAP work leads to tangible goals and ready-to-launch initiatives to achieve them. As an example, one company we helped through such a service targeted–and achieved–these concrete objectives:
81%

---
Downtrend in incident trend
73%

---
Engaged workforce in safety activities
63%

---
Visible field leadership on site
89%

---
Increase in safety competency

Case study – C-ZAP Consulting Service
CLIDE Implementation has helped clients deliver substantial results in achieving more than 31 lakh safe man-hours, in industries ranging from oil and gas, construction and pharma to steel and manufacturing.
How does the C-ZAP model benefit organization?

---
---

Engaged Workforce
---
Downtrend in incident rate
Our Approach

---
Defining a bold vision for how the company must change, based on analysis of its present state, now and in the future.
Where do we stand at present?
Together, we assess the company's current state in the context of the maturity model, gauging how far its business model must shift to sustain or need change. Understanding this point of start—and envisioned point of arrival—will establish the magnitude, difficulty, and velocity of the change
What is the right choreography?
We look across the safety data to craft the right C-ZAP implementation strategy — leadership, safety beliefs, organisational values, safety competency, observation data, workforce involvement and safety KPI's—to establish the most logical sequence of action. The goal is to pull the right gear at the right time, without disrupting the company's overall strategy.
What tools should be used?
Crafting a C-ZAP implementation plan is one thing, but executing it effectively requires the right leadership framework and the digital tools for data analysis. The organization have achieved the best result by using
By Numbers (Industry Served- Oil, Gas, Pharma, Steel, Construction, Shipyard, Power)
References
Talk to our consultant to know about our C-ZAP Process

.

Join us and make your company a safer place.